Note: All Amazon links on this post are affiliate links. If you buy anything on Amazon through the links on this post (not just items from this post), Amazon will pay me some coffee money (at no extra cost to you), which I promise to drink while creating more helpful content like this (All opinions on this site remain my own).
2019 was the year that brought along Tv shows, Movies and Trailers we never knew we wanted.
What initially looked like another year doomed to be dominated by the powerhouse that is Disney and Game of Thrones, became a year filled with comebacks for many Actors, shows, and companies (Most especially Warner Bros and DC).
So Without further delay, here are The Best Surprises of 2019
TV Shows
.
What happens when the super-powered heroes we look up too, turn out to be just as rotten and corrupt as the rest of us. Ever ready to abuse their powers and influence to get ahead in life.
Well, that's where The Boys come in.
Join Hughie, Butcher, Frenchie, and Mother's Milk (yes, that's his real name) as they go after and kill the superheroes of this world. With nothing more than their wits and lots of weapons.
The Boys is hands down one of the best surprises of 2019. The show perfectly depicts overpowered superheroes, as flawed human beings who love money, attention, and drugs (just like the rest of us).
However, the best surprise from this show came with this little bundle of Joy.
Not even Homelander can compete with this level of evil cuteness.
The Boys return summer 2020. But in the meantime, you can watch season1 on Amazon.
2.
The Return of Money Heist (La Casa De Papel)
.
After the mind-blowing conclusion of season two, I thought that would be the last time we would hear from the professor and his crew. But much to my surprise, the third season of Money Heist dropped, and It was a wild experience.
I experienced Happiness, Despair, Anger, and Joy while watching this eight-episode season. And by the time I got to the end of the season's finale, I ended up digging through the internet for a season four release date.
It's incredible how one show can provoke so many emotions. Meanwhile, C.W. just renewed super-girl for season six, and I still feel nothing.
Seeing the professor and his crew doing what they do best, was one of the best surprises of 2019.
However, I guess the season wouldn't have lived up to our standards without a new opponent for our infamous heroes. So in a way we owe season three's quality to the queen Alicia herself.
Money Heist returns for its final season on April 3rd, 2020.
3.
Watchmen
.
If you've seen the 2009 Watchmen movie, then you have to watch this series.
If you've read the twelve-issue comic series, then you have to watch this series.
If you haven't seen either, then watch the movie or read the comics, then watch this series.
Watchmen is the perfect of slow-burn series to binge this holiday season. The round picks up years after Adrian Veidt's ingenious plan to save humanity from itself and sets up a beautiful story filled with twists, and dramatic reveals.
Each episode leaves you wanting more, while you desperately try to understand everyone's endgame. But what's incredible about HBO'S Watchmen series is that despite all the drama and craziness, it still saves the best scene for last.
Well done, HBO, can't wait to see what you have in store for us in 2020. (P.S. if you're looking for More Watchmen, check out D.C.'s ongoing Doomsday Clock event. It's amazing)
.
The Witcher is an excellent series that has to be experienced to be truly appreciated. The series follows the mutated monster hunter, Geralt of Rivia (excellently played by Henry Cavill), as he struggles to find his place in a world where people prove to be more wicked than beasts.
The story which surrounds this magical world sucks you in immediately. And then it keeps you entertained with beautifully shot sword fights while subtly educating about the political state of this world.
However, The Witcher is a show that demands your attention. As various events in the series, take place in the past and present of the general story.
It's then left to the audience to figure out when certain events are taking place. Before the show brilliantly reveals the full picture in the final episode.
But as if that wasn't enough, the Netflix hit series pulls one of the best surprises of 2019 with its beautiful song "Toss a coin to your Witcher." perfectly sung by Joey Batey, who plays Jaskier on the series ( I can't get that song out of my head).
Unfortunately, this amazing series will not return to grace our screens until sometime mid next year. And so my watch begins.
5.
Barry Season 2
.
I remember when I started this series last year; I thought it was another comedy silly series that would eventually get canceled. However, by the time the first season ended, I was speechless.
Fast forward to season 2, and we're in a different series entirely.
All credit deserves to go to Bill Hader, who stars as Barry, an ex-soldier turned gun for hire who discovers the joy acting while searching for his target.
But much to his surprise, Barry enjoys acting so much that he's willing to abandon his old life of murdering people for money. However, no matter how hard he tries, his past sins keep catching up with him.
MOVIES
.
Whether you think it's a masterpiece or just another over-hyped 2019 movie. I think we can all agree that Joker was not what anyone expected.
I, for one, didn't expect the movie to be blatantly call out society for failing to take mental health seriously. But I respect Todd Phillips and D.C. for having the guts to put out a film like this.
And even if it everyone's said it, I'll repeat it, Joaquin Phoenix, as Joker was terrific. And the battle for the best actor in this year's Oscars will be insane.
However, one of the best parts of Joker is the number of timeless quotes it gave us. From, "I used to think that my life was a tragedy, but now I realize, it's a comedy." To the one that hit the most:- "What do you get when you cross a mentally ill loner with a society that abandons him and treats him like trash? You get what you f**king deserve!"
I hope with Joker's critical and Financial Success, motivates DC to release more Villian-focused movies like this. Because in my opinion, DC'S Villians are far more interesting than their heroes.
2.
Once Upon a Time in Hollywood
.
Only Quentin Tarantino can get away with making a movie where legendary actors like Brad Pitt and Leonardo Di Caprio just hang out with each other for nearly three hours.
Once Upon a Time in Hollywood follows an actor Rick Dalton (Leonardo Di Caprio), who gained fame and fortune by starring in television westerns.
Rick, however, is struggling to find meaningful work in a Hollywood he doesn't recognize anymore. So he spends most of his time drinking and palling around with Cliff Booth (Brad Pitt), his best friend and longtime stunt double.
And while that doesn't seem very interesting, the acting from these two titans helps to kill any dull moment.
The movie's mind-blowing moment comes, when the duo brutally murders a group of cultists with a flamethrower, in the most insane sequence of events in a 2019 movie.
So I guess it evens out.
.
Parasite is one of those movies that I wouldn't have seen, if not for the buzz surrounding it. But thanks to said buzz, I watched, laughed, and cried at one of the best surprises of 2019. And if you take the risk too, I promise you won't regret it either.
Parasite is a 2019 Korean Movie that follows two very different families and shows how class discrimination and greed eventually destroyed the symbiotic relationship that existed between the two units.
The entire movie was a surprise of its own and did a beautiful job of showing how different life can be for two families that unknowingly interact daily.
I haven't enjoyed a Korean film this much since Train To Busan.
However, what earned Parasite my respect (and a spot on my Must Watch Movie List), is its tragic end, which left me speechless.
4.
Avengers Endgame
.
While Avengers Endgame was the culmination of ten years of great work from the MCU, it is by no means the best movies of the year.
However, it gave us one of the best surprises of 2019 (and probably in Comic Book History), with the entire marvel cast coming to Captain Ameria's aid in the fight against Mad Titan Thanos.
Now I'm more of a DC fan, but even I had to admit that this scene was epic. Take a bow Kevin Fiege, take a bow.
.
To be honest, I had no expectations for this movie. The storyline was the same as the previous installments and most importantly, NO ONE ASKED FOR A NEW TERMINATOR MOVIE.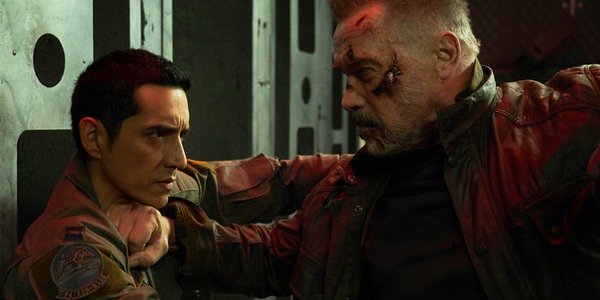 But on watching Dark Fate, I have to admit it's actually a good action movie. Sure the storyline was trash, but each time an action sequence began, it felt like a different movie altogether.
However, with great performances coming from its cast, Dark fate is definitely one of the best surprises of 2019.
But I think it's time for Hollywood to let this franchise die. And like I said in my review, I hope Dark Fate's poor box office numbers, finally gave them all the encouragement they need.
There's our list. Do you agree with us? Tell us what was The Best Surprise 2019 Movie or TV Series for you? And don't forget to follow us on Twitter @RealCinemaHub to get more TV and Movie updates.